<! - - Begining of Right Side Content - - >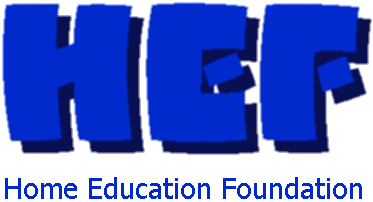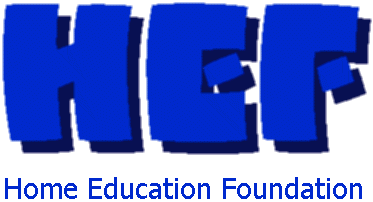 "PARTNERSHIP WITH THE HOME EDUCATION FOUNDATION"
"Home Educators' Voice at the Capitol
Dear Home Schooling Friend,
The Home Education Foundation was founded in 1991 by Craig and Brenda Dickinson. HEF was formed to raise support for a consistent home education voice at the Capitol. Craig Dickinson began effectively lobbying for home education legislation in the mid 1980's. He drafted and was the driving force behind the bill which became the home education law. The Dickinsons felt this legislation was necessary because of the call to home educate their children and their desire to make home education an option for others. In June of 1993 Craig Dickinson went to be with the Lord after a bout with cancer. Since that time Brenda has continued to lobby for home education.
Over the years it has become crucial for home educators to have a voice at the Capitol to defend existing laws and to expand our rights and privileges. For example, Brenda (HEF) worked legislation through to allow home educated students to participate in Florida High School Activities Association extracurricular activities and to participate, tuition free, in dual enrollment programs at community colleges or universities during their high school years. This became law in the 1996 legislative session. These legislative activities, as well as other actions in the past, have been initiated and supported by HEF. All home educating families have benefited from the work of HEF. Our rights and privileges have come only as a result of the diligent and committed lobbying of Craig and now Brenda Dickinson.
HEF is supported only by donations. Over the years the Florida Parent Educators Association (FPEA) has occasionally contributed to the lobbying efforts of HEF, but the associations have distinctly different purposes and corporate structures. HEF is not supported by Florida Parent Educators Association (FPEA). Currently HEF has a seven member volunteer Board of Directors who are home school leaders serving as an advisory board. As President and lobbyist for HEF, Brenda is the recognized voice of home educators at the Capitol. At this time there is no staff to support HEF's correspondence, newsletters, and alerts.
HEF's Board of Directors is inviting you to become an HEF Partner through a monthly commitment or a one time offering. Through a large group of Partners this ministry will fuction with excellence. HEF's goals are to support Brenda as a full-time lobbyist and to provide an aid to assist Brenda with administrative needs. Our goals also include a newsletter to inform and direct HEF partners about legislative issues, actions and concerns of home educators. To find out how you can become a HEF Partner write us at:


HOME EDUCATION FOUNDATION
P.O. Box 12563
TALLAHASSEE, FLORIDA 32317-2563
850-878-3029
As home schoolers we have a common bond with the activities of HEF. Webster's dictionary defines partnership as "the association of two or more persons for the purpose of conducting any business" and implies joint expense and joint interests. To partner with someone is to take hold together with them to help complete a task. This involves commitment to each other and to the endeavor undertaken, Most of us as home educatior do not have the time, the contacts or the expertise to be effective lobbyists. As partners we can provide the financial and prayer support for HEF, allowing Brenda to continue lobbying for us.
Please prayerfully consider becoming a Partner in this ministry.
The Home Education Foundation
Board of Directors


WHAT IS THE HEF?
The Home Education Foundation (HEF) is a corporation established to raise support and to direct lobbying for home education legislation. Its goal is to safeguard the existing legislation and evaluate the need for future legislation.


HEF's BEGINNINGS
Craig and Brenda Dickinson were among the pioneers of the home schooling movement. When the Dickinsons began home educating their children in 1981, there were no Florida laws legalizing home education. They registered as a private school which was the only legal option. But by 1984 several home educators who registered with private schools were charged with truancy. One family lost custody of their children to the court. Other families were awaiting hearings.
Feeling a strong call of God to make home education legal for all parents, Craig drafted language for a bill. The Lord led the Dickinsons to Representative Daniel Webster, of Orlando, who also wanted to home educate his children. For the next 8 months the Dickinsons worked diligently to educate, convice and win support for this new and controversial issue. In the face of opposition and the unliklihood of the bill becoming law in one session, the bill miraculously passed the legislature.
However, the bill was then placed on a list of recommended vetoes by Governor Bob Graham's staff. Craig was able to address the Governor's concerns and the bill was signed into law. Another miracle!
Over the years Craig was diligent in his fight against the attempts to add regulation to home education. In 1990 he successfully killed 6 proposals to change the statutory requirements for home education. However, hidden in a large bill, a provision passed which was designed to prevent child abusers from home schooling. Inadvertently this law placed a burden upon every parent to prove they were innocent of child abuse and would have required them to obtain "permission" from HRS to home school. Without Craig's intervention, home education would have essentially ceased in Florida. he worked with the Department of Education to develop an affidavit which allowed parents to continue home educating their children.
before HEF was founded, Craig was the volunteer lobbyist for home education. After the 1990 legislative session the need for a full time lobbyist for home schoolers was obvious and the Home Education Foundation was created. The Dickinsons invested their own time and money to tour the state informing groups of the need for a full-time lobbyist.
In October 1992 Craig was diagnosed with renal cell carcinoma cancer. In June 1993 Craig went to be with the Lord.
With the loss of her husband and the challenge of raising and home educating her two children, Wendy and Mark, the overwhelming responsibilities associated with lobbying caused Brenda to consider dissolving HEF. However, she felt the Lord directing her to continue the work.
Since then Brenda has been lobbying to make tuition-free dual enrollment at community colleges and universities, as well as participation in extracurricular activities, options for home educated students. Successful lobbying requires many hours to educate and win legislative support, and timing is critical. After three legislative sessions these bills are now law.
Never surprised at what God can do, but often amazed at what and how He accomplishes His plans, the HEF's beginnings serve as an encouragement to the future.


WHAT DOES YOUR LOBBYIST DO THROUGHOUT THE YEAR?
As a lobbyist Brenda is your voice as a home schooler throughout the year by:
Developing and cultivating relationships with numerous legislators and people in various state agencies, which may affect home educators.
Developing the trust of legislators over time through constant visits and repeated telephone calls, assistance with information, answering questions and resolving concerns in their home districts.
Tracking home education through approximately 1,850 bills during the legislative session.
Helping to prevent onerous legislation affecting home education from being filed or passed.
Initiating actions which would benefit home educators. Recent accomplishments include the equalizing of SAT/ACT scores for public, private and home educated students to qualify for scholarships from the Florida Undergraduate Scholars' Fund; dual enrollment for home educated students; and extracurricular activities.


WHY DOES HEF EXIST
To promote and unify action among home schoolers.
To evaluate and monitor issues which may affect hame educators.
To initiate, draft and find sponsors for legislation to protect our rights and expand our privileges.
To plan, direct and coordinate lobbying efforts.
To enhance communication about home education issues and laws.
To educate Florida legislators about home education.
To provide a presence and to voice the position of home educators in the Florida Legislature and the Department of Education, as evidenced by the following comments:

"Brenda Dickinson has been the voice of calm and reason throughout a long and emotionally charged debate on home schooling. She has the respect of many legislators for her effective lobbying skills and commitment to the cause of home schooling." Representative Cynthia Moore Chestnut
Dem - Gainesville

"I was pleased to sponsor the Interscholastic extracurrivular home school legislation. Without any doubt, this accomplishment could never have been achieved without your assistance." Senator John Grant Rep - Tampa

"...your lobbyist (Brenda Dickinson) did an outstanding job and stayed in close touch with my staff." Senator George Kirkpatrick
Dem - Gainesville


HOME EDUCATION FOUNDATION
P.O. Box 12563
TALLAHASSEE, FLORIDA 32317-2563
850-878-3029


<! - - End of Right Side Content - - >